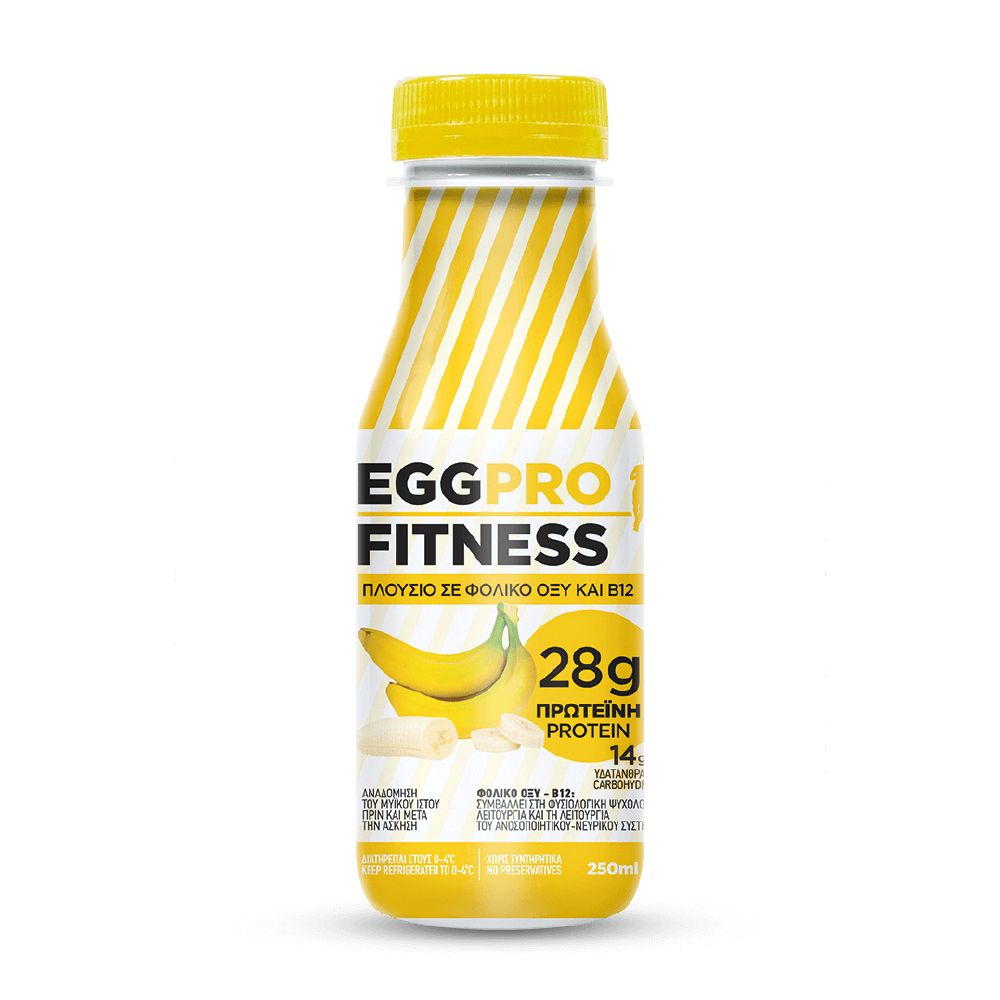 Pasteurised egg white 97%
with banana extract
High content in Folic Acid
and Vitamin B12
No genetically modified Components
Description
Nutrition Fats
Description
An enjoyable protein drink based on pasteurised egg white that combines 28g of egg protein of high biological value, 14g of carbohydrates and a great banana taste. Helps replenish lost energy after exercise and speeds up the reconstruction of muscle tissue in the context of a healthy and balanced diet.
The drink also contains folic acid and vitamin B12, both of which contribute to normal psychological function and proper functioning of the immune-nervous system.
Produced in collaboration with the Industrial Food Technology Laboratory and Agricultural Industries of the Polytechnic School of AUTh and International Hellenic
University.
Nutrition Fats
Περιγραφή
Διατροφική δήλωση
Περιγραφή
Ένα ευχάριστο πρωτεϊνούχο ρόφημα με βάση το παστεριωμένο ασπράδι αυγού που συνδυάζει
28g πρωτεϊνών αυγού υψηλής βιολογικής αξίας,14g υδατανθράκων και υπέροχη γεύση μ
πανάνας. Συμβάλλει στην αναπλήρωση της χαμένης ενέργειας από τη σωματική άσκηση και
στην αναδόμηση του μυικού ιστού στα πλαίσια μιας υγιεινής και ισορροπημένης διατροφής.
Έχει υψηλή περιεκτικότητα σε φολικό οξύ και βιταμίνη Β12 που συμβάλλουν στη φυσιολογική
ψυχολογική λειτουργία και τη σωστή λειτουργία του ανοσοποιητικού – νευρικού συστήματος.
Παρασκευάζεται σε συνεργασία με το εργαστήριο Τεχνολογίας Βιομηχανικών τροφίμων και
Αγροτικών Βιομηχανιών της Πολυτεχνικής Σχολής του Α.Π.Θ. και του το διεθνούς
Πανεπιστημίου Ελλάδος.
Διατροφική δήλωση